Summer season is unfortunately coming to an end and the season of cold, wet – and most likely – snowy days is upon us. As we all know, rain and snow are not the best friends to our favourite trainers of the suede persuasion. Luckily for us there are plenty of gorgeous leather and synthetics to prevent us enthusiasts from losing sleep over our babies becoming damaged.
Today, I will show you five pairs of trainers that can suit your needs for that day which we all love – Saturday.
adidas Gazelle OG Leather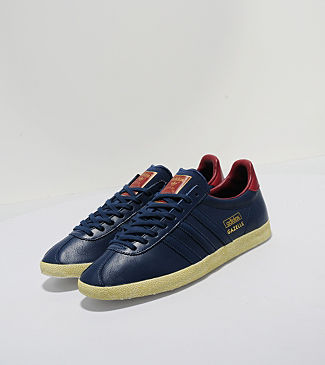 A classic trainer in the world of footwear: adidas Original Gazelle. First released in the 60′s and gaining its reputation among young football fans all over the world – the Gazelle is timeless.
This reissue is perfect for the winter as the main material is premium leather which sits on a synthetic sole. The navy colourway will also prevent any muck or dirt from clearly showing up and as always with Adidas – these will last throughout and beyond.
These are just released and can be bought for £65 from Size?
New Balance 410 
Originally released as a lightweight, running shoe, New Balance are becoming increasingly popular with people searching for a comfortable and stylish trainer to wear while going about their business.  These low-profile 410s are stereotypically NB – with their lightweight nylon material. Although the upper of the shoe is part suede, this would not be noticeably affected by any adverse weather conditions that you may come across.
I must admit – I am not the greatest fan of New Balance but I can definitely see myself wearing a pair of 410s.
These are available for £50 from Size?
adidas ZX700
These newly released ZX700 trainers seem to be Adidas' autumn follow up to their 'USA-coloured' ZX700s that were released in June of this year and what a great follow up they are. These have recently been purchased by myself and I would recommend them to anyone. I have not experienced such comfort in a shoe since my first pair of Sambas (and that takes some going). As with the NB410, shown previously, these have an upper suede but their durability is evident.
These are available for £65 from Schuh.
Puma SF-77
Another lightweight. Another classic. This time from Puma. The SF-77 is a hit from the 70s that has been revisited. Branded as a "lightweight runner", this is a trainer that can be worn all year round due to its durability. The nylon-suede mix of the shoe also provides comfort for the wearer.
These are available for £50 from Schuh.
Nike Roshe Run
One more pair of shoes that I will add are the Nike Roshe Run. These are not trainers I would wear however, they are very popular at this moment in time therefore, I feel I should add them. These are primarily designed as fashionable running shoes – providing comfort and with a fully mesh, black coloured upper which makes it perfect for anyone who is self-conscious about having dirty trainers.
These are available for £70 from Size?
Thank you for reading my blog and hopefully you find yourself a beautiful and suitable pair of trainers to get you through the depressing weather.
Thank you and goodbye!